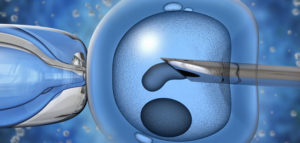 Members of the extended SurMom family understand what psychological difficulties you may be experiencing while considering the program of surrogacy and ovum donation. By this point, you might have undergone numerous attempts to get pregnant, including unpleasant treatments and bitter disappointments. Even if you're single or in a same-sex couple, there can be emotional challenges involved in this process. We're here to help.
SurMom has a unique donor base in various countries around the world. We recommend selecting a donor in the country where the surrogate mother resides. This simplifies the further use of ova as much as possible. No matter what country the procedure happens in, our team of Israeli specialists will monitor it. This ensures the highest standards of medical activities and promotes greater success rates.
Features of obtaining ovum from a donor
In a woman's body, hundreds of ova mature throughout life. Each of them can produce a new life. However, certain health problems can lead to a lack of oocyte production. In addition, many women over the age of 40 have ovules that are not suitable for fertilization. With the development of artificial insemination procedures (IVF), reproductive specialists introduced the use of donor ova.
The donation of oocytes is recommended in the absence of ovaries, early menopause, serious genetic diseases, and poor quality of native female sex cells. Using the ovum of a young, healthy woman, you can speed up the process of achieving a surrogate mother's pregnancy. Future parents will be able to realize their dream of a baby faster.
A rather complex, multi-stage medical procedure is used to obtain ovum. Under normal conditions, the female body produces only one ovum per menstrual cycle, which leaves the follicle during ovulation. To increase the chances of successful embryo growth in the IVF process, a much larger number of oocytes is stimulated through medication. This procedure is designated by the term "ovarian hyperstimulation."
About ten donor's ova are recovered after hyperstimulation. However, the course of follicle-stimulating hormones is associated with a certain discomfort and side effects. During the ripening of follicles, the donor should be monitored constantly by specialists. The well-being and emotional calmness of the woman directly affects the quality of ova obtained from her.
The procedure for donor selection in SurMom center
Employees of the SurMom Center help clients find the best donor for their desires. First, a couple dreaming of parenthood often wants to have a child as quickly as possible. Second, our customers often have their own ideas about the baby's appearance. For example, they might dream that the child will have the mother's hair color or eyes "like dad." Therefore, clients receive questionnaires with 2-3 candidates for ovum donation that are selected for phenotypic signs. In addition, desires for education levels, religious affiliation, hobbies, and even creative skills can be taken into account.
SurMom selects candidates for the donation of oocytes in Russia, Ukraine, Belarus, Georgia and the USA. In these countries, financial compensation for ovum donation is legalized, which is a good motivation for women to participate in such programs. The database for candidates is practically unlimited. It consists of only young, healthy women (between 18 and 28 years old) who must pass strict medical and psychosocial screening.
The preliminary hormonal preparation of the woman and the extraction of oocytes occurs in specialized clinics abroad. SurMom cooperates with proven and reliable reproductive clinics that work according to Israeli protocols. All key stages of oocyte donation are carried out under the control of top Israeli specialists. The successful results of our program speak for themselves. All over the world, the combined knowledge, skill and effort of the extended SurMom family members show in the greatest outcome of all: brand new healthy babies!