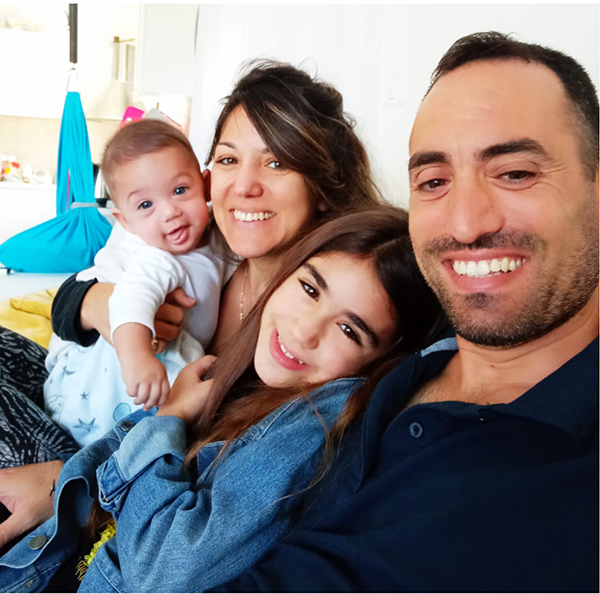 After about 6 years of my partner's repeated attempts to have another child, in which we had many miscarriages, a quiet birth, an ectopic pregnancy and unfortunately also the loss of a premature baby, we made the difficult decision to try our luck one last time through surrogacy.
Surmom was the first company we came to, where we met Ida, the company manager. Already in the first meeting with Ida, we felt we had reached a good place, run by a wonderful, humane, honest and decent woman. She recognized the broken mental state we were in and managed with her gentleness and wisdom to give us a sense of warmth and security. We did not continue our search and decided to start a process with Ida.
We soon went through the medical processes we had to go through and Ida found a surrogate for us. Around the 14th week of pregnancy, my partner, my daughter and I flew to Georgia with Ida to get to know the surrogate and in addition, we won a pampering trip in the spectacular landscapes of the country as part of the deal we signed with Ida.
After about a month, the corona began and many borders around the world were closed to tourists. Ida took care to help us fly to Georgia just moments before it was no longer possible to do so. In Georgia I met Inge and Rebecca who were in constant contact with me and took care of all our needs as temporary residents in a foreign country. Even after the birth of our son, I received constant support from them and especially in the process of issuing the birth certificate which took longer than usual (thanks to Corona) but could have been delayed longer without the help of Inge under the supervision of Ida, who visited the Ministry of Interior To complete the IPO process for us.
The choice of Ida and her company was accurate and correct for us, and from getting to know other families who went through a similar process with Ida, so it was for them. I highly recommend to any family of any kind who is interested in the surrogacy process, to join Ida and go through this not-so-simple process in the best and most humane way that can be.
In any question, consultation, deliberation, I would be happy to help.